 Menu
BiblioTech West
10am - 6pm
BiblioTech EDU
10am - 6pm
BiblioTech South
10am - 6pm
Login for Physical Device Information Only
Item request has been placed!
×
Item request cannot be made.
×
Processing Request
Not up to date on the latest music? Hoopla's got your back! Updating their music page every Friday, you don't have to miss out on the newest releases. Without further ado, here's four albums out now that Hoopla has to offer: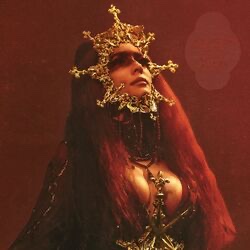 Produced by Trent Reznor of Nine Inch Nails, Halsey takes on an edgy, yet somewhat ethereal sound in her newest album "If I Can't Have Love, I Want Power." Consisting of 13 songs, each focusing on her authentic self-perception and emotional turmoil, this album is said to be her best, most compelling, and boldest to date, turning Halsey haters into "stans." Pure, genuine and overall, artistic. This record deserves Album of the Year!
For our indie-music-lovers, Lorde has (finally) come out with an album so bright and uplifting that it can turn even the darkest nights into a sunny summer morning. "Solar Power" is a self-aware work of art, with a beautiful and almost spiritual approach, her message is simple: be light, be mindful, be appreciative of the beauty around you. The music is a bit out of date, but listening to her message, we value the beauty of it.
The Killers went back to their roots with the release of their seventh record, Pressure Machine. The orchestral sounds give this album a melancholy feel, centered around frontman Brandon Flowers' stuggles with his religious upbringing. The earnest lyrics and solemn apparatus create a substantially empathic tone which captivates the listener and tugs at their heart strings. This album shows much growth both personally and musically, making it their best work in years.
Heavy metal fans are raving about Iron Maiden's newest release, "Senjutsu," an instant classic. This record is described as ambitious, imaginative, and enthralling. The title loosely translates to 'tactics and strategy', but can also refer to skill, technique, and interestingly, magic. Recorded in 2019 and put on hold due to the pandemic, this incredible work was undoubtedly worth the wait!
You can access these albums on Hoopla from your smartphone, laptop or tablet, making it easy for you to jam out wherever you go.